Prepare yourself for long term culture change
Ethical Corporation is a trading name of FC Business Intelligence Ltd.
Registered in England and Wales no.4388971. Registered address 7-9 Fashion Street, London, E1 6PX, UK | Terms and conditions

Please note that by downloading this brochure you also subscribe to receive similar information from Ethical Corp
The 3rd Annual Compliance and Conduct Risk in Financial Services Forum (7 June, London) is THE meeting place for the financial executives looking to implement a long-term good conduct and culture strategy within their organisation.

Drop your details in the box on the right to discover the:

Cutting edge industry debates: Discover the key issues and opportunities for your role going forward including how to deliver a strong, resilient and healthy culture for the long term.
80+ executive attendees: Find out which senior leaders will be joining you at this year's peer-to-peer learning event: Deutsche Bank, ABN AMRO Bank, Clientele, Wells Fargo, Allianz, Standard Bank, Aviva and many more.
New interactive formats: Discover the new benchmarking formats for 2017 - held under Chatham-House rules there'll be in-depth case studies, interactive panel discussions and intimate break-out sessions for best practice sharing 1-on-1.
Just drop your details on the right!

Joining you at the Compliance and Conduct Risk Forum will be: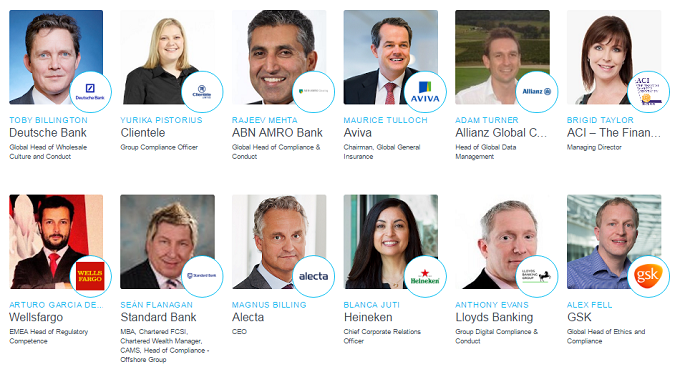 Best,